RESPONSIBLE DRINKING,
HEALTHY LIFESTYLES
Being fully aware of our responsibility as a market leader to lead by example, we already made sustainability the core of our Group strategy and are ready to intensify our efforts as we go further.
We have to act responsibly as a reliable business in all our operations and along the value chain, as well as a trusted actor nationally and within the communities where we activate.
Our way towards sustainability is bolstered by the Asahi Group vision. Based on the Sustainability Principles, the vision guides us towards creating value everywhere we operate by considering and addressing the impacts we create or contribute to on the environment, the people and communities, including their health and responsible drinking.
Besides the proportion of overweight and obese population, the lack of physical activity and tobacco intake, alcohol consumption is one of the health determinants with major implications on the overall wellbeing of individuals. Both the volume and the pattern/ frequency of drinking have health and social outcomes, and a major public health concern is currently harmful drinking.
In 2019, at the EU level, one in twelve people consumed alcohol on a daily basis and almost one in five had an episode of heavy drinking at least once a month. At the same time, slightly over ¼ of the EU population did not consume any alcohol.
As a company that produces alcohol beverages, we are aware that our products can bring people together and create memorable social occasions , and at the same time can contribute to irresponsible behaviours.
Considering all social and medical worries regarding the impact of excessivedrinking, our direct responsibility is to reduce harmful drinking habits and promote a healthy lifestyle among customers, perceived as such and expressed by our stakeholders during the internal and external consultations.
We comply with relevant regulations, policies, industry standards and international commitments to make sure that we have responsible marketing and commercial communication activities and we disclose appropriate information, as well as responsible messages to our customers regarding alcohol consumption.
Our approach to responsible marketing and commercial communication conduct is described in the  "Product Marketing and Labelling" section.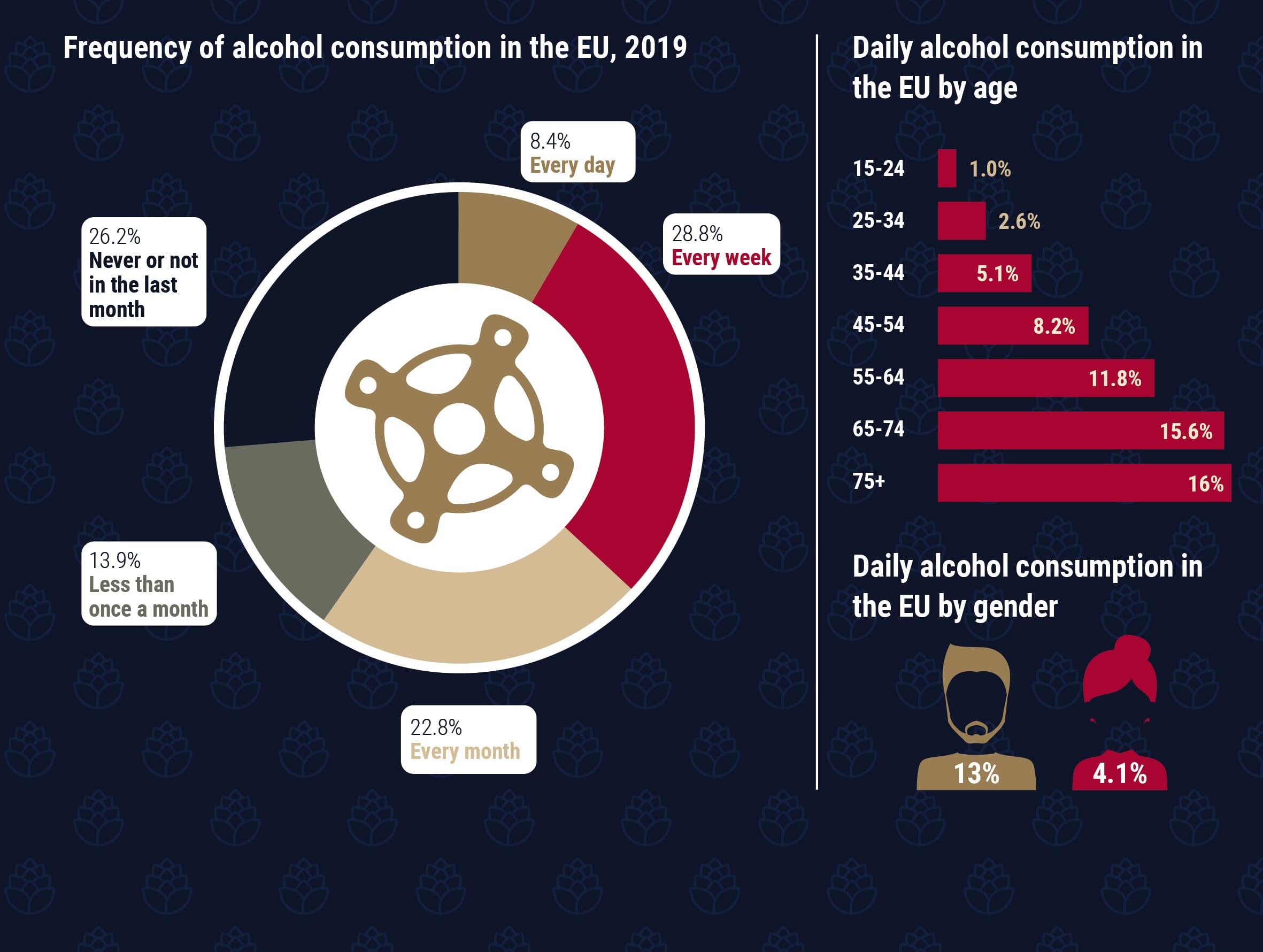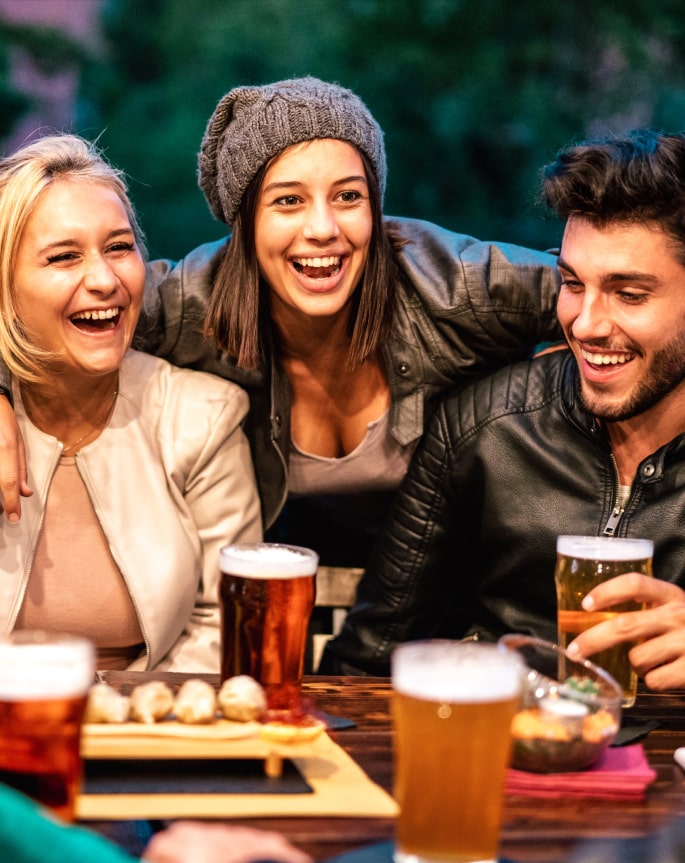 We follow the Asahi Group Responsible Drinking Principles and Policies, available on the company's website to ensure transparency and awareness among employees and consumers. The policies cover the following aspects:
Awareness and actions of employees;
Reduction and prevention of issues caused by inappropriate drinking habits;
Responsible marketing activities;
Appropriate information disclosure;
Collaboration with stakeholders;
Development of innovative products.
We focus on alcohol consumption prevention programmes, transparent and responsible communication towards our customers and creation of new healthier drinking options through low-alcohol or non-alcohol products.
Among the prevention programmes the most significant are those aimed at preventing drink driving and under-age drinking.
We also conduct campaigns to discourage harmful alcohol drinking that can be an aggravating factor to health problems or can lead to negative social behaviours. Responsible marketing activities are equally important when it comes to our responsibility regarding responsible drinking and healthy lifestyles. Currently, 100% of our labels and brand communication of alcohol products bare responsibility messages to address underage drinking, drinking while driving or drinking during pregnancy. Also, all our labels include information regarding the calories' intake for the respective product, while on the secondary packaging we have included all the nutrition information. The same information is publicly available online on desprealcool.ro.
Positive results in the reduction of inappropriate drinking habits and promotion of healthy consumption are amplified as a result of joint efforts. Therefore, we cooperate with other companies in the alcohol beverage industry and trade associations.
To prevent underage alcohol consumption, we partnered with the Nongovernmental Federation for Children (FONPC) and Step by Step Centre. Within the "Efficient parents, happy children" programme, parents benefited from counselling and parenting advice from experts in child psychology. The teachers involved in the programme learned how to support parents in tackling underage alcohol consumption. We collect feedback from participants via feedback forms and reshape our trainings' content accordingly. To meet the parents and teachers' specific needs, the topics of the workshops are updated yearly.
In 2019, to prevent drinking and driving, we developed a new version of Zero la Mie Application, which allows users to estimate the time required for their blood alcohol level to reach 0 ‰ after alcohol consumption.
We decided to relaunch the app based on the results of "2018 Social Attitudes Regarding the Risk in Traffic" carried out together with the Crime Research and Prevention Institute within the General Inspectorate of the Romanian Police. The study revealed that a significant share of drivers was still driving after they consumed alcohol.
Our dedicated website www.desprealcool.ro is a constant source of information about responsible alcohol consumption. The website is also a resource that encourages a healthy lifestyle offering nutrition and mental health advice from experts.
We continuously monitor the download and utilisation rate of the Zero la Mie app and the key performance indicators established for our responsibility drinking platform desprealcool.ro. We evaluate the quality of app content based on people's reactions, reach and engagement. For everyone wishing to contact us on our approach to responsible alcohol consumption, we have an e-mail contact available on our website.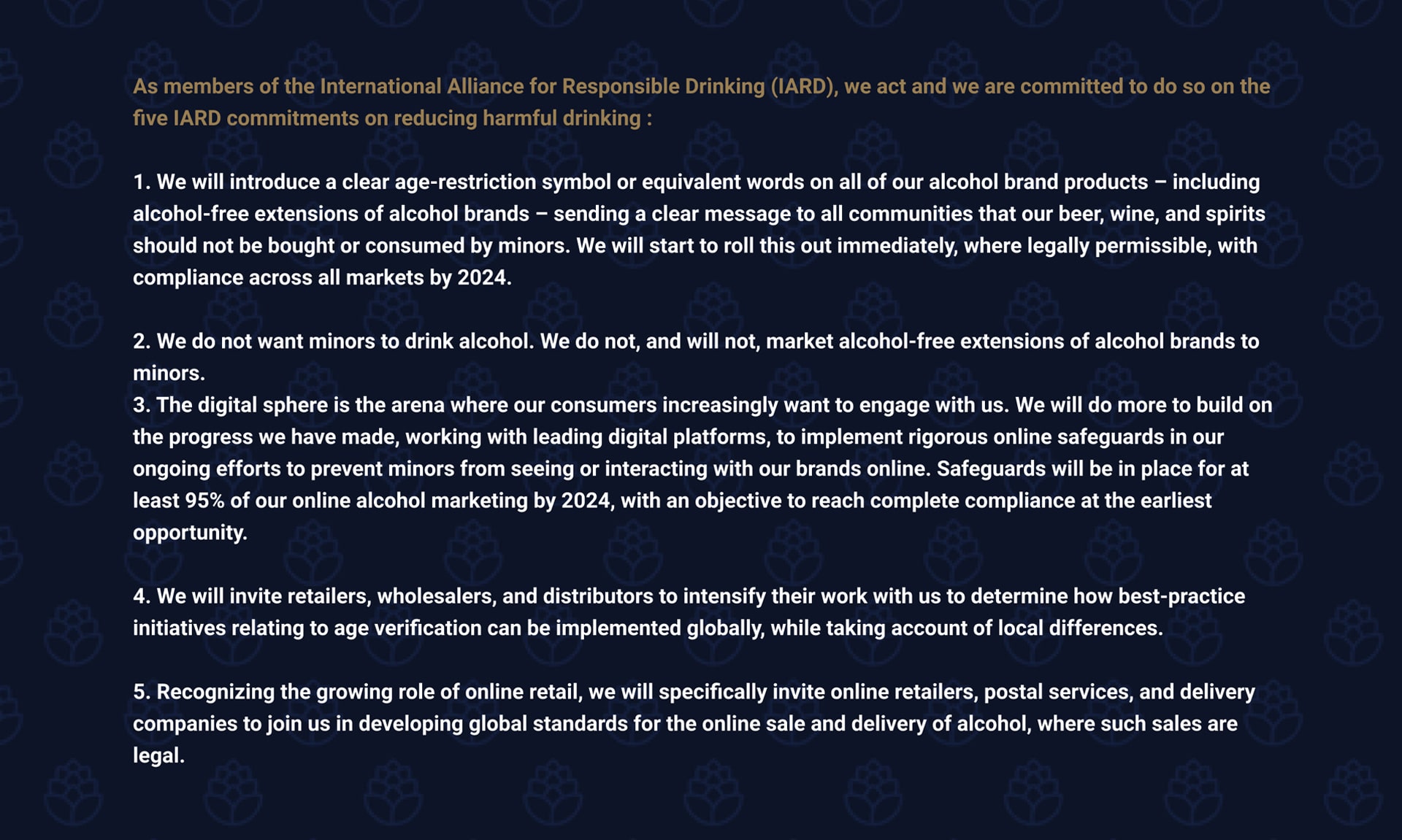 Together with the Brewers of Romania Association we carried out several projects for preventing underage drinking and driving under alcohol influence. In 2018 and 2019, under the slogan "A mom in need is a mom indeed – Be like a mother to your friends and tell them – No alcohol when driving!" the campaign informed on the drinking and driving risks mainly through the online media and offline activations organised by Romanian Police. The campaign also had a Christmas edition in 2018 when users were encouraged to download a "mom filter" and tell their friends not to drive after drinking alcohol.
In 2019 in an integrated educational campaign "Alcohol doesn't make you big", the beer industry, public authorities, school and family work together to fight against underage alcohol consumption. The project consisted of several meetings with a psychologist held in 7 high schools in the country and reached 735 students directly.
Educational messages of the campaign are available on the www.alcoolulnutefacemare.ro website.
By inspiring our customers to drink less, but better, we help them in making responsible choices and using our products as an enjoyable part of life. Therefore, we continue to innovate and further develop our low and non-alcoholic part of portfolio, offering our consumers more options that suits different consumption tastes and patterns.
More information regarding our plans related no non-alcoholic beers are provided in the Market presence and Product marketing and labelling sections.

Our products are addressed to all adults; thus, our responsibility in promoting a responsible drinking behaviour does not stop with our clients. We also focus on our employees, addressing them with specific messages and assisting them in developing specific behaviours. When joining the organisation, all our new employees attend the Alcohol Behaviour and Communication Training (ABC) regarding responsible drinking. All employees get through a refresher training every three years via eLearning, the latest being conducted in 2019.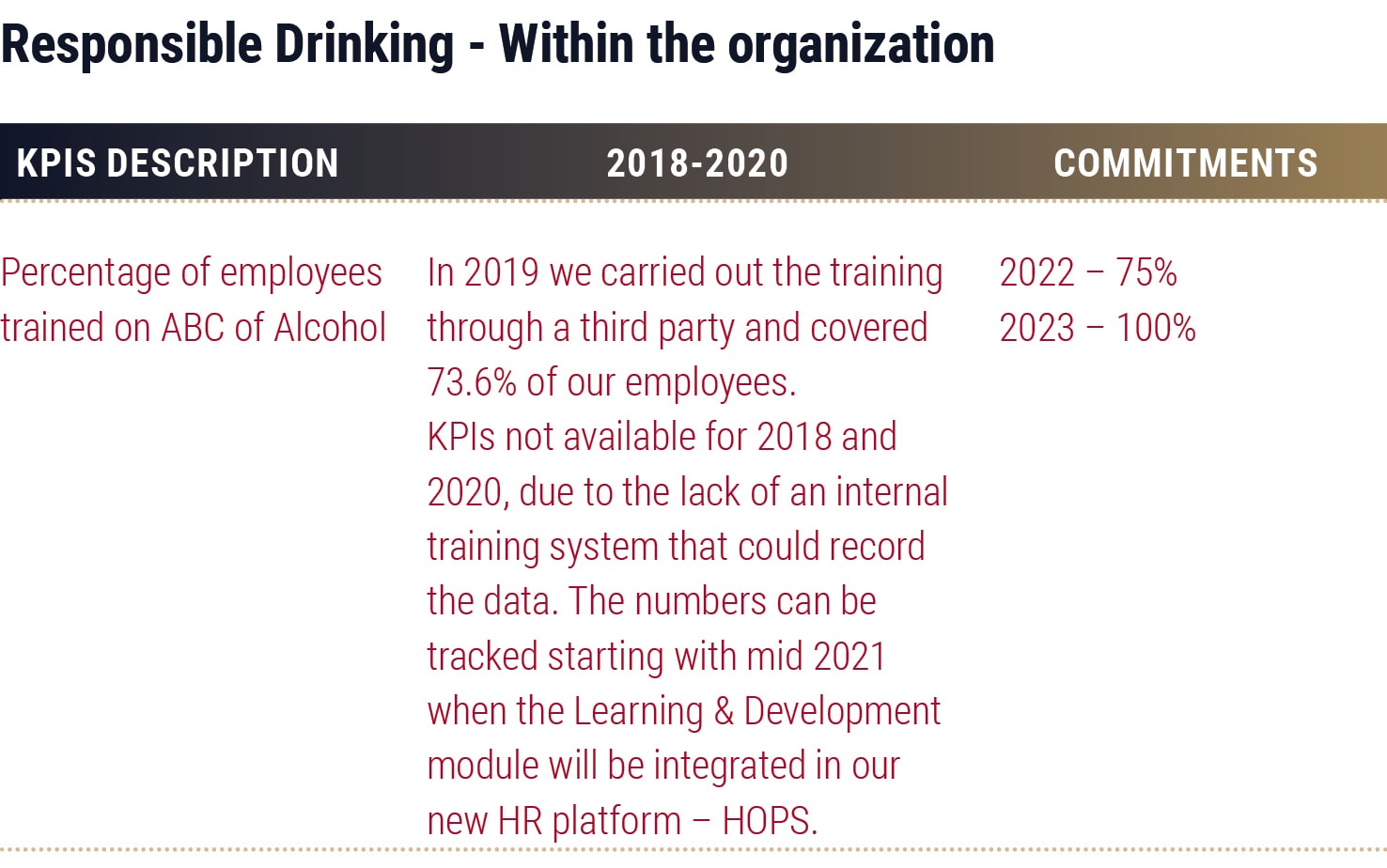 All employees have access to the Alcohol and Drugs Policy on the Intranet, which sets an expected behaviour framework towards alcohol consumption both inside the company and during business relations conducted on behalf of the company. Moreover, the policy also includes a self-assessment tool developed by the World Health Organization for identifying alcohol-related disorders. For those engaging in marketing-related work we carry out an Alcohol Intelligence Quotient Policy (AIQ) training, which includes guidelines about the responsibility messages that should be included in our communication.
PRODUCT MARKETING
AND LABELLING
Labelling has been subject to EU regulations since 2011. Although these requirements are not mandatory for producers of beer and other alcoholic beverages that contain over more than 1.2% ABV, they are encouraged to voluntarily provide information such as energy or nutritional values.
Under the EU Alcohol and Health Forum, brewers in Europe committed themselves to implement ingredient listing and nutrition information, thus responding to consumer expectations and, by self-regulation, go beyond the legal obligation.
As a market leader, with distribution channels that cover the whole country and having national visibility, we know our impacts are significant.
To be fully accountable for these impacts, we abide by the highest rules of responsible conduct that also reflect on matters related to product labelling and advertising.
Any of our marketing activities has an impact on our customers, therefore we make all efforts to gain their trust by having a transparent and responsible communication.
Besides complying with local laws and regulations, we follow the Policy on Commercial Communication developed by Asahi Breweries Europe Group which establishes consistent standards for the marketing activities of our brands.
We also contribute to the development of new initiatives and work along peer companies and alcohol trade associations.
Our actions are aimed at ensuring an informed decision of our consumers, influence their responsible consumption and contribute to a low number of non-compliance incidents regarding communication.
The pillar of our self-regulatory system is the group's Policy on Commercial Communication, which we continuously improve by consulting the market stakeholders or anytime new regulations become applicable to the market.

The Policy was updated in late 2018 and included recommendation on non-alcoholic beverages. The implementation of the policy is checked by our Sales and Marketing Compliance Committee in their weekly meetings, and is doubled by a dedicated online system for approvals of marketing communication and trade marketing materials. The Committee includes employees with different expertise such as Legal, Corporate Affairs, Sustainable Development, Marketing.
Our communication activities are aligned with the International Alliance for Responsible Drinking (IARD) Principles, and the newly released Digital Guiding Principles. IARD's commitments include recommendations related to responsible marketing, packaging, production, sales and actions to prevent harmful drinking.
As mentioned above, we go beyond legally required information on labels and voluntarily plan, starting 2021, to place not just one, but all three warnings against harmful drinking on alcoholic drink packages. Moreover, as of 2016, the nutritional information and the ingredients are available both on all labels and online, a voluntary act aimed at complying with Proud to be Clear Commitment on labelling of the Brewers of Europe.
Other voluntary acts we comply with are the Commercial Communication Code of Brewers of Romania Association and the "Rules on Responsible Commercial Communication for Beer", integrated in the Code of Practice in Advertising developed by the Romanian Advertising Council (RAC).
Lastly, we have a Social Media Policy that establishes rules for responsible actions and activities in this area. In order to minimize the risks related to marketing communication , we carry out an Alcohol Intelligence Quotient (AIQ) training to employees and business partners engaging in marketing-related work for a better understanding of the company's marketing policies and codes, as well as an ABC training for all new employees in our company or our agencies.
The effectiveness of our measures is reflected in the number of complaints regarding marketing communication.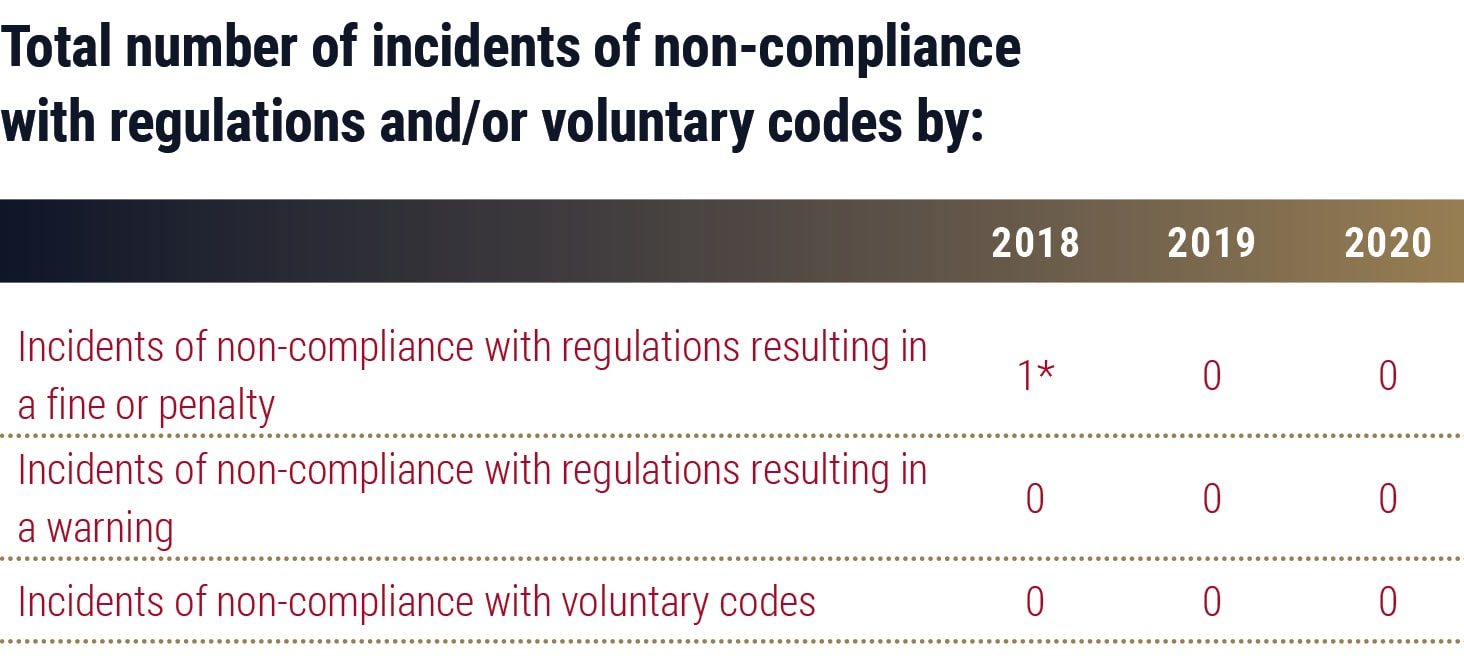 *In 2018 we had a complaint regarding inconsistency of information in the Rules of a marketing campaign contest. We were sanctioned following this complaint.
Ursus Breweries has proven over the past 15 years that it is a responsible advertiser, and we are further committed to respect the beer industry and our own Group Policy on Commercial Codes of Commercial Communication.
COMMUNITY INVESTMENTS
& LOCAL PARTNERSHIPS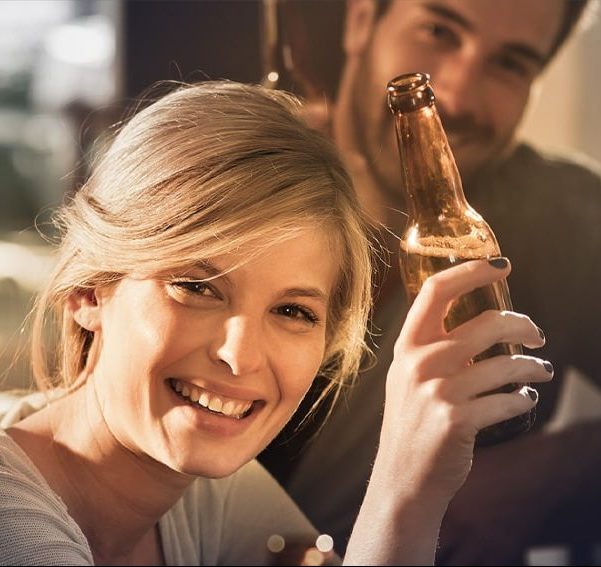 As a company that strives for sustainable development, we must pay attention to all our stakeholders and the communities in which we operate make no exception. What we do for the society goes beyond the commercial interest, our vision being to support long-term impact initiatives.
Therefore, besides the value we bring through the jobs created and the contributions to the local budgets of the communities where we operate, we put effort in meeting the expectations of the society at large.
We believe that initiatives built with people in mind and for the benefit of society at large are the ones that last over time.
Thus, we take into consideration community's needs and act as a partner for the local authorities, NGOs and community members in order to contribute to a sustainable development for all parties.
The causes we support represent solutions to local community issues identified and solved by its own members, sometimes with our employees' voluntary contribution.
At the same time, the activities we choose to get involved in are relevant to the identity of both our business and the respective community.
Being part of the communities where we conduct our business operations, we try to contribute to people's wellbeing and development by supporting local initiatives. At the same time, we also get involved in national campaigns, especially when there is a major and urgent need for help.
Such an example is the 2020 pandemic crisis. As a response to a worldwide crisis that had effects at all levels, including national and local ones, we launched a partnership with the Romanian Red Cross, powered by Timișoreana brand. Through the partnership we donated 1 million RON for medical equipment in an effort to fight the pandemic. At the same time, the Timișoreana brand launched the "#SeparatiDarImpreuna" initiative, which encouraged citizens to donate via SMS for the same cause.
Romanians contributed with almost 200.000 RON through our campaign. Health issues were also addressed through sponsorships for "Daruieste Viata" Association (2019) that carried out projects to rehabilitate oncology centers and "Hospice Casa Sperantei" Foundation (2020) to provide free palliative care services for patients.
We are partners for the community in times of crisis but also in good times. We support emblematic events and make celebration possible by partnering with local authorities.
Such examples are the partnerships with Brasov city from 2018 to 2020 for local festivities or the partnership with the "Cultural Brewery" in Cluj-Napoca where we supported local cultural debates and conferences.
Our preoccupation for the protection of environment and promotion of recycling is also reflected in on-the-side projects we support. Through our innovative recycling programmes at the largest music festivals in the country, such as UNTOLD, Neversea, Oktoberfest or other local events, we find ways to turn fun into an opportunity to learn about the environment and recycling (over 2.000 kg of aluminium collected).
To further bring people closer to the nature we created 12 "Ciucaș Relaxation Areas" within several local communities, where people can enjoy outdoor moments of relaxation together with their families and friends.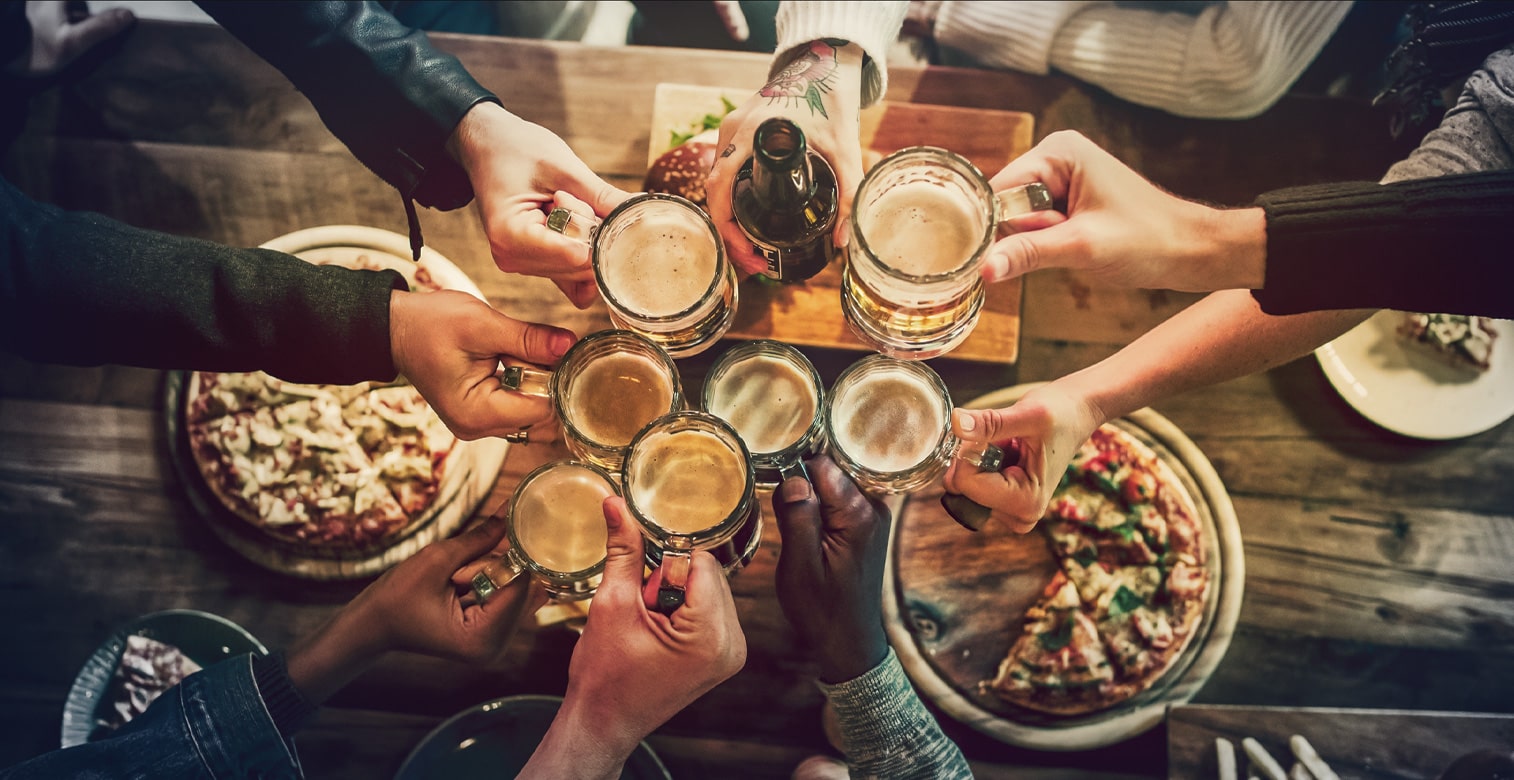 The present we are facing poses larger challenges than ever, thus while doing our part to contribute to the sustainable development in Romania, we need to engage better with our partners: suppliers, customers, local authorities, communities, but also academia for accomplishing positive outcomes. Building on our culture of bringing people together, we are involved in several strategic partnerships built over the years. One such partnership focuses on education, an area that needs continuous support at all levels and in all communities where we are present.
The tertiary education attainment in Romania (one of the progress indicators monitored under SDG 4 – Quality Education) continues to be lower than the median registered in the EU. In 2020, 24.9% of the Romanian population aged 25 to 34 had tertiary education attainment, compared to 40.5% at EU level. This aspect is key for employment in jobs that require specialised skills and competences gained only through higher education.
In response to the expectations of the local communities where we operate, we decided to get involved mainly at this level of the education system. We also saw the potential of such involvement in fostering the preparedness of students and fresh graduates as potential employees for our company. The flagship programme of our involvement in education is the Ursus Breweries scholarship programme.
Called "Students for Communities", the programme started with a partnership with the Babes Bolyai University in Cluj-Napoca and gradually extended to other universities in the country. We selected universities considering the cities where we were present and which had the technical profiles that could provide a potential pool of candidates for our company, especially for the manufacturing and commercial business unit.
Thus resulted partnerships with universities in Bucharest, Timişoara, Cluj, Galaţi and Buzău, and also with technical profile high-schools in Buzău. We yearly offered around 40 scholarships for the universities and 10 scholarships for high-schools. All scholarships are offered for a 9-month period. The annual overall budget is around 155,000 RON.
The selection process of the candidates is conducted yearly by the university/ high-school independently from Ursus Breweries and is based on the following eligibility criteria: students in the 1st year of masters (for 2-year master programs) and students in 2nd year or 3rd year of studies (for 4-year specializations), high school students; only students with annual average grades of minimum 8; students involved/ registered in NGOs; students involved in projects that benefit the community; students with good academic record proven by recommendation letter from a teacher.
The final list of the students that are granted scholarships is provided to Ursus Breweries with the purpose of recruiting them in the Graduate Trainee Programme. This is a programme focused on final year students, fresh graduates and master students. Its overall objective is to provide training for young people at the beginning of their careers for a potential future role in the company.
Besides the scholarships, throughout the years, part of the programme was the organisation of series of events dedicated to students and/ or teachers. Be them career talks or exchange of experience, the students and teachers had the occasion to interact with specialists and top managers from Ursus Breweries and ask for or share knowledge and know-how from practice that could improve their performance as students or teachers.
Feedback channels with our partners under these programmes are continuously opened, so that we can adapt to the circumstances, if changed, and maintain the programmes relevant. Our projects will continue to focus on our home markets and all other relevant communities for the overall sustainability of our business.

CREATE PEOPLE TO
PEOPLE CONNECTIONS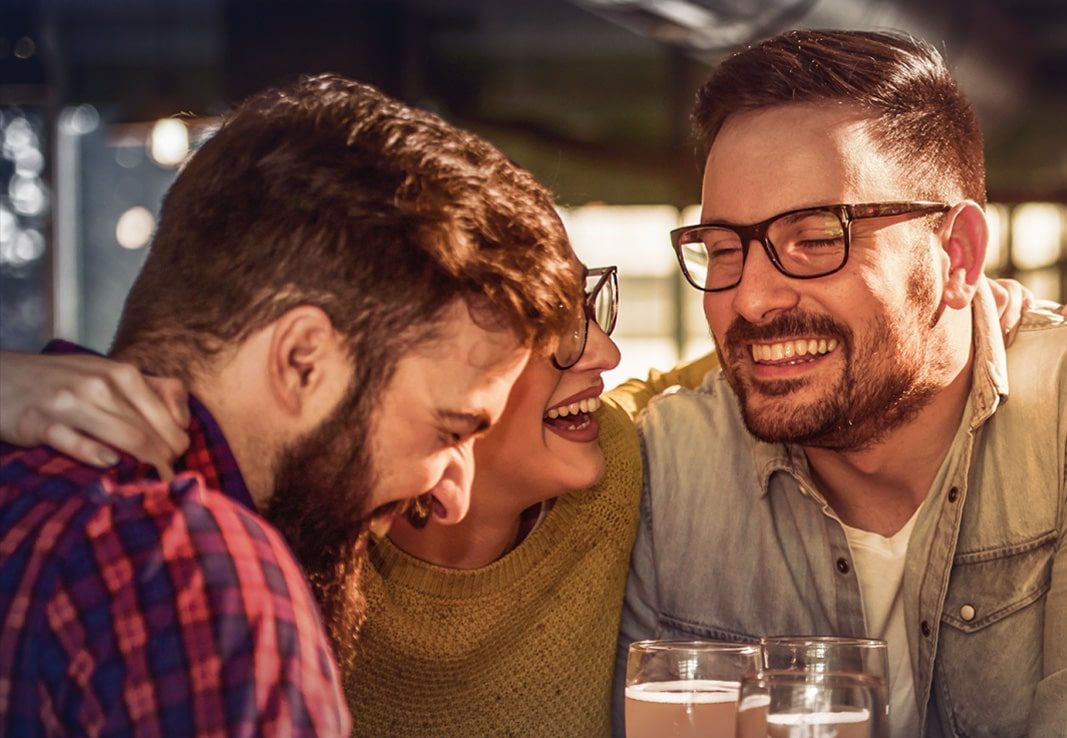 Apart from our ambitions regarding environment protection, safeguarding and developing our workforce, protection and promotion of human rights along the supply chain, we also committed ourselves to contribute to the development of local communities in which we operate and to strengthen our collaboration with local partners. Our business plays an important role in bringing customers together and creating enjoyable moments for them.
We carry this philosophy further by bringing people together to help each other and one way of doing it is through volunteering initiatives that complete our efforts in community involvement. Both people from the community and our employees benefit from these activities.
As a company interested in sustainable growth in relation to the people and the environment, our goal is to find ways to solve local issues by using our employees' knowledge and civic spirit. Therefore, the volunteering activities are designed to meet the needs identified in the community by our employees.
In 2018, our colleagues participated in various volunteer actions:
they donated blood for the Blood Transfusion Centres in Bucharest and Buzau,
together with the Edulier Association, they prepared winter supplies for elderly,
offered Christmas gifts for children,
donated books,
redirected 2% from their income tax to various NGOs,
planted trees,
rehabilitated the centres of "Pentru Voi" Foundation in Timișoara, where people with disabilities live,
offered hot meals in a centre for elderly and vulnerable people in Cluj-Napoca.
In 2019, our employees offered their support to a night asylum in Timișoara and helped serve hot meals to the beneficiaries. In Cluj-Napoca they also cooked for people in need alongside the "O masă caldă" Foundation. Our colleagues in Brasov weeded seedlings in a mountain area. Our employees in Bucharest contributed to conserving nature by planting trees in Tinosu, Prahova County, and waste cleaning the Vacaresti National Park.
They also donated blood and offered gifts for children in the ShoeBox campaign.
In 2020, due to the pandemic, we chose to put the safety of our employees first. Some of the projects involving large groups of people were put on hold, while trying to identify ways to volunteer remotely. With the support of ViitorPlus Association through their "Adopt a tree" project, our employees had the possibility to order and plant trees from the comfort of their home.
As a result, 110 colleagues planted over 750 trees.
We constantly collaborate with relevant stakeholders from the communities where we are present to identify new volunteering opportunities and reshape the ongoing ones. Our partners' feedback helps us improve our volunteering work and make it more valuable to the community.
As an organization, we value the power of staying connected and we put great emphasis on creating opportunities for our people to come together, share experiences, best practices and have fun together.
In 2018 and 2019, before the pandemic, our people had many opportunities of face-to-face interaction through conferences, monthly town halls in the head office, quarterly town halls in the breweries, yearly Christmas parties in all locations, as well as Family Picnics organized by Ursus Breweries, volunteering activities and many more. They could also enjoy a beer and a snack after work, during our regular Happy Pubs.
In 2020, the context of the pandemic brought new challenges, so that we created opportunities for our people to stay connected online through online Town Halls, broadcasts, sales conferences, using our intranet for regular interaction, celebrating achievements through our reward & recognition programs.
Starting 2021 we will follow the group's volunteering strategy RE:CONNECTION. The approach will assist us to make a difference and help people and communities to reconnect at different levels, while engaging employees. The main focus areas will be "Food" and "Environment", where the organisation can effectively contribute through its knowledge and experience, and "Disaster relief", an urgent matter in case of emergency situations.